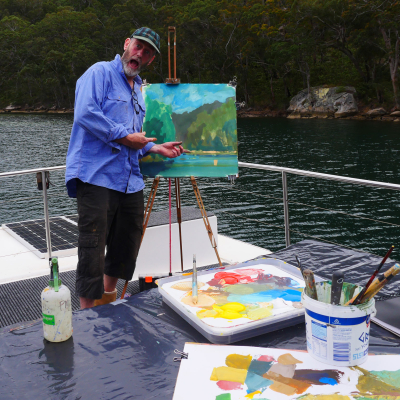 Imagine four days 'houseboat cruising' the lower Hawkesbury River, with sympathetic, like-minded artists, painting, drawing and photographing in this spectacular landscape!
Imagine waking up as the early morning sunlight casts dazzling reflections on the spectacular sandstone cliffs.
Imagine working into your first drawing of the day to the sounds of bellbirds, lapping water, the promise of a hearty breakfast and an uninterrupted day of creating or relaxing before you.
Imagine drifting silently through secluded coves and waterways totally lost in your work and the sights and sounds of nature.
Whatever your level of experience or favoured media, the Hawkesbury Art Adventure is an opportunity for you to be inspired by this amazing waterway and build your creative practice.
Artist mentor Paul Macklin tailors the program to suit the capability and needs of each individual participant.
Experienced artists, please come and do your own thing!
For less experienced students Paul will guide you in the use of acrylics, help you develop your own approach to 'en plein air' painting and support you to finding YOUR way.
"The way goes about the day, is to seize the opportunities, spontaneously as they arrive".
This special experience is limited to a maximum of 6 participants! with a max of 8 people on board. Depending on final numbers will finalise the type of houseboat that we hire.
Mid-week 4 days and 3 nights - Early Bird Rate - $1860* - Normal Rate - $1960*
*inclusive of GST
What we provide: four days of tuition, three nights and four days on board the houseboat, all food and linen for the time away. Beds will either be Double, Single or Bunk Bed accommodation depending on how many attend.
What you need to bring: your art kit and personal items plus your preferred beverage.